Extracurricular
Sr Boys Basketball Bronze at Zones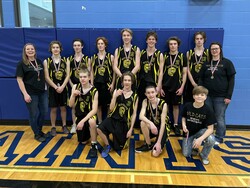 The Sr Boys Basketball had a great season.  The Sr Wildcats had a strong showing at zones where they brought home the bronze medal.  Great work boys!   Thank you to Lauren Mackeracher and Paige Volz for coaching the boys this season.   
Sr Girls Basketball
Great season of basketball for the Sr Girls.  The season was short as we were only able to practice in January.  Got games in in February and went to Zones in March.  Thank you to Eileen Hines for coaching.  Another thank you to Darby Stolz and Dawson Hines for helping coach with Eileen!  
Sr Girls Volleyball
Good to see the Volleyball in action again at MJS!
Cross Country Running 2021- GREAT WORK CATS!
Nicole Nilsson is a grade 12 student at MJS.  She has been running for many years.  She recently took GOLD at the Riverdale Run and GOLD at the meet in Vermilion to qualify for provincials!  We are so proud of Nicole's athletic achievements!  She ran the 5K in 24:49!  Good luck at provincials!    
MJS Golf Sept 2021
MJS had 3 players represent at Golf Zones in Cold Lake- Rohan Quist, Aiden Fox and Brennan Saunders!  Great work guys!